Year 3
Our teachers are Mrs Clarke and Mrs Webster
Our teaching partners are Mrs Herman and Mrs Ellis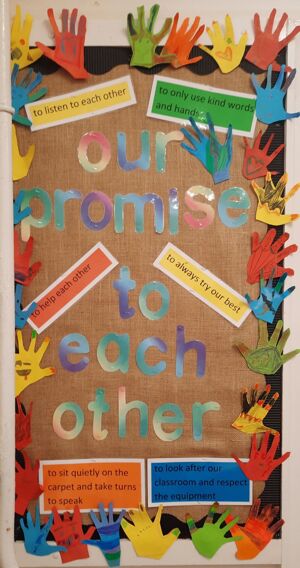 Welcome to year 3!
This term is all about settling in well to year 3: learning new routines, transitioning from key stage one to key stage two and becoming increasingly independent learners. At the start of the year we discussed and agreed our class rules. Below is our class promise to one another.
In year 3 we continue to use a highly engaging and detailed approach to the teaching of English. Children develop various techniques that they practise over a number of lessons, which they then use to create their own piece of independent writing. Our texts for this term are Stone Age Boy by Satoshi Kitamura and Skara Brae by Dawn Finch. Reading is a huge part of the writing process and so we continue to encourage children to read to another adult at home at least 3 times a week. Alongside this, in school year 3 are studying Glog by Pippa Goodhart and Explore! Stone Age, Bronze Age and Iron Age as part of our guided reading sessions.
Maths follows the mastery approach and this term we will be looking at addition, subtraction and place value. We will also be looking at developing our numeracy skills.
As historians we love finding out about the Stone Age in the Autumn term and as Scientists, we look at animals including humans and forces. Our topic in geography is food and farming and this goes alongside investigating seasonal food in design and technology. As musicians we are beginning to read music and in computing we are looking at online safety and networks.
Here we are having lots of fun being archaeologists and learning about the past from evidence left behind.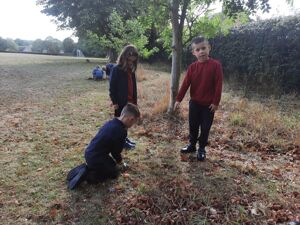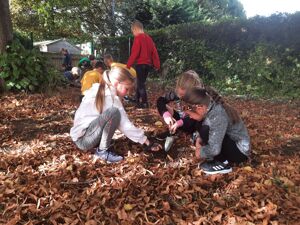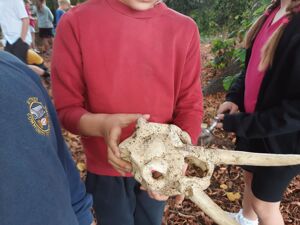 Do keep up to date with our learning adventures on our social media channels.
Weekly News
Termly News
Class Routines
Weekly news will be sent out via parent mail every Friday.
Homework will be sent via parent mail and must be completed by the following Friday
PE days are Tuesday with Mrs Clarke or Mrs Webster and Wednesday with Mr Andrews.
Please encourage your child to read at least three times per week- they will receive a hole punch in their bookmark, which over time leads to a reward.
Growth Mindset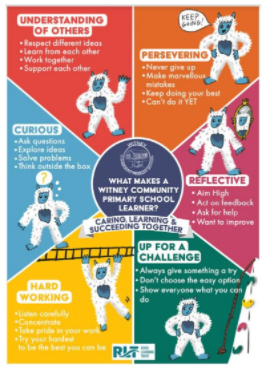 Growth mindset is about having a positive attitude and supports being a successful learner.
Showing a growth mindset helps us face challenges, overcome failure and
be resilient. At WCP we celebrate mistakes in all subjects as we know that that can be the first attempt in learning. We discuss how our
learning behaviours contribute to be successful in school and relate this to
future ambitions. Each term we focus on a particular learning behaviour
that is linked to growth mindset and certificates are awarded to children who show these learning behaviours in school.
Autumn 1 - Hardworking
Autumn 2 - Reflective
Spring 1 - Persevering
Spring 2 - Up for a challenge
Summer 1 - Understanding of Others
Summer 2 - Curious
How can I help my child?
Check here for ways to support your child
Useful Websites
Check here for useful websites