Philanthropy
Partnership with Nasingin Island Elementary School
Witney Community Primary school is in partnership with Nasingin Elementary school in the Philippines. This school is located on an extremely densely populated island in Getafe, Bohol, Philippines. The island takes up 0.04 km², and has a population of 2,115. This leaves it with a population density of 52,875 people per km². The small island is sustained by fishing. Strong typhoons hit the island often which impact this school.
The school has 14 teachers, classes from Kindergarten to Grade 6. They have 315 children enrolled this academic year.
Their school supplies and classrooms got hit in the last typhoon. As a school we hope to support them in their journey of rebuilding their school.
Watch the video from their headteacher Maria below.
Advent Calenders for Witney Food Bank
Our Reception Class had their annual advent calendar collection for the local food bank. The plan was to collect as many advent calendars as possible to add to food parcels so that all children will get that little bit of joy of opening a door each day to discover a tiny chocolate.
This year they managed to collect and donate 40 calendars which is fantastic!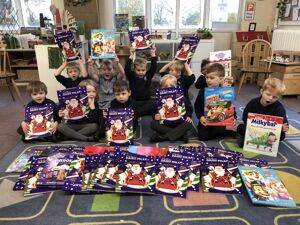 Click on the link to see the Food Bank
https://youtube.com/shorts/OK7GKTpaMh4
Supporting Larger Issues
Alzheimer's UK
In June 2022 we held a Bake Sale for Dementia as part of our ongoing philanthropy. Organised by Mrs Taylor and Mrs Moss, the whole school got baking, buying and eating!
Alzheimer's and Dementia is a cause close to a number of our WCPS community and we are so grateful that you have helped us to raise just over £150 this afternoon. Another example
of WCPS demonstrating its school values of philanthropy, love and friendship. See our reel below
https://www.instagram.com/reel/CdOTzI6AVoD/?igshid=YmMyMTA2M2Y=