PSHE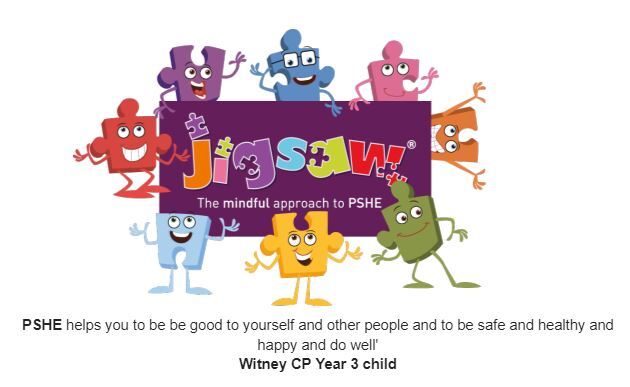 Here at Witney community primary school, we use Jigsaw PSHE throughout school.
What is Jigsaw PSHE?
Jigsaw PSHE is a comprehensive and completely original Scheme of Work which is taught from Reception through to Year 6. It brings together PSHE Education, emotional literacy, social skills and spiritual development in a comprehensive scheme of learning. The statutory guidance for Relationships and Health Education for primary schools is also covered within this scheme.
SMSC (Spiritual, Moral, Social and Cultural) development opportunities are mapped throughout. All of these pieces of learning are brought together to form a cohesive picture, helping children to know and value who they are and understand how they relate to other people in the world. We link the Jigsaw puzzles to our school yeti learning behaviours. These are celebrated in our Friday celebration assembly.
We are proud of the way we promote emotional wellbeing for all our pupils through our Jigsaw programme which underpins the whole of our curriculum. As well as this we give opportunities through zones of regulations.
The 6 Jigsaw Puzzles (half-termly units) are designed so the whole school can study the same learning themes at the same time, each year group at its own level. The Puzzles are sequential and developmental throughout each academic year. The puzzles are:
· Being Me
· Celebrating Differences
· Dreams and Goals
· Healthy Me
· Relationships
· Changing Me
Each class has a Jigsaw Journal floor book where we store all of their learning and reflections.
You can find out more about JIGSAW by downloading the PDF guides for parents using the links below.
Safeguarding is taught throughout the Jigsaw Puzzles. Each puzzle highlights different aspects of keeping safe in education. For example 'Celebrating differences' has themes of Anti- bullying week. We begin each lesson with a lesson charter and an understanding of who we can speak to. We discuss the importance of trust in the Jigsaw circle.
British Values
'Fundamental British Values underpin what it is to be a citizen in a modern and diverse Great Britain valuing our community and celebrating diversity of the UK. These values are Democracy, Rule of Law, Respect and Tolerance, Individual Liberty.'
Jigsaw contributes, as a good PSHE programme should, to the British Values agenda very significantly, both through the direct teaching of information and through the experiential learning children will enjoy.
The 5 strands of the British Values agenda have been mapped across every Puzzle and every Piece (lesson). We also teach these through our assemblies and RE discovery lessons.
Relationship & Sex Education (RSE)
Our RSE curriculum is designed to match guidelines from the Department for Education. Any changes to our approach shall be noted on this page and through parent mail.
We believe that knowledge empowers and protects children as long as it is age-appropriate. At secondary school, Sex Education is statutory and we believe that primary schools should prepare children with accurate knowledge about puberty and human reproduction before they transfer to secondary school.
Correct terminology for body parts is introduced early to normalise this biological vocabulary and to support safeguarding. These words are not used in isolation but always in conjunction, ensuring children know these are private parts of their bodies.
If parents/carers wish to withdraw their child from the Sex Education elements of the RSE curriculum, they should contact the Head Teacher. Please note that Sex Education is not the same as Relationships Education so a conversation with school is important to ensure there is a full understanding of the aspects of the curriculum a child can be withdrawn from.
Please see the attached documents for an overview of RSE at Witney Community Primary school.
Ian Eagleton
Ian Eagleton
As part of LGBT+ History Month, Scholastic held a webinar with the author, Ian Eagleton. Ian talked about his new book 'Glitter Boy' and spoke about how the word 'gay' is used inappropriately with many people, using it to mean that something is 'uncool'.
He prompted a brilliant discussion by showing the phrase 'That's sooooooooo gay' and asked questions such as:
'What does it mean?'
'Do you hear it in school?'
'How does it make you feel? How might it make other people feel?'
'How can you tackle it?'
Ian then went on to talk about key people who were part of the gay rights movement, such as Harvey Milk and Marsha P. Johnson. We learnt about the 50th anniversary of the Stonewall riots, which helped spark the fight for gay rights around the world.
During the 1960s, being gay was classified as a mental illness in the US. Gay people were regularly threatened and beaten by the police, and were shunned by many people in society.
Even in the UK, being gay was a crime until 1967.
The Stonewall riots in 1969 were a landmark event in history, which helped to fight homophobia and campaign for equal rights.
Quotes from year six children:
" That was so interesting - I can't believe that it was illegal to be gay!"
" Gay people had to hide away and have discos without others knowing - that is very wrong."
"I know that I can talk to my teacher about this and how I feel."